Is everyone else as confused by the weather lately as I am? The last two days, Boston reached about 70. In February. And now today we're only maybe hitting 40, and there's light snow-ish-ness. I'm definitely not complaining about the mini heat wave, but it's weird to have such crazy fluctuations. The grey weather, though, makes me happy to stay inside all day (since it's my day off today, anyway), not actually get out of sweatpants, and instead slowly cook my way through a few projects for the day. While listening to Otis Redding, because honestly that just makes any day better. I spent the morning reading, made a individual portion dutch baby smothered in fruit, a bit of lemon juice, and some maple syrup for breakfast, and then made Gimme Some Oven's Homemade Red Enchilada Sauce in preparation for making this stuffed pepper recipe to share with you all. I was totally planning on just buying it, but a: the grocery store was out yesterday when I stopped in for it, and b: this way I could leave out the garlic that I oh so sadly can't eat anymore (if you do make her recipe, and unlike me actually can eat garlic, please please do add it!). Win-win in the end, I think.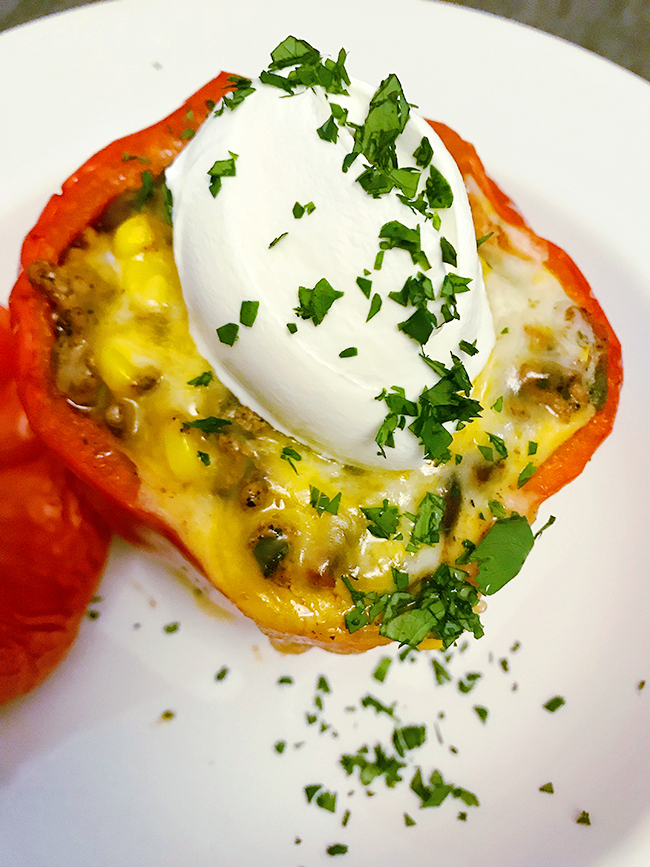 Anyway, this is one of my go to recipes any time of year. Cozy enough for winter, but still light enough for summer. And somehow, I never posted this last summer, when I was making it allll the time. Especially later in the summer, when our poblano plants went crazy and we had so many amazing, crisp poblano peppers that held up so well to being baked. They stay crunchier than bell peppers, and have such a great delicate flavor to them that goes so well with the filling. They are more difficult to stuff, just because of the shape of them, and harder to top with melt cheese, but if you treat them sort of like enchiladas and just smother the whole pan of peppers, it works out juuust fine!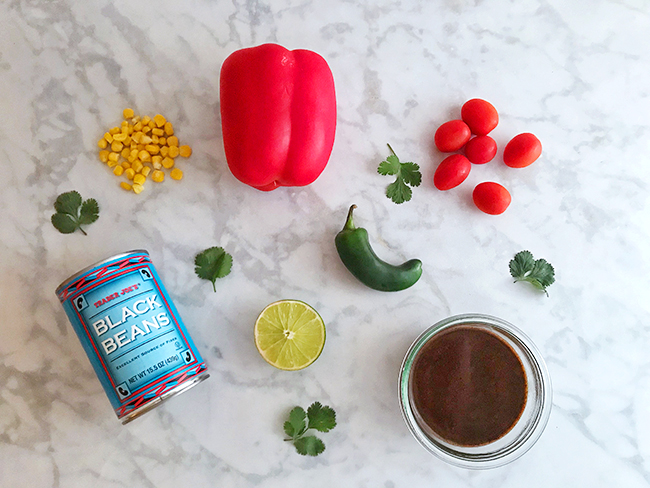 I don't know if I've ever made exactly the same version of these more than once. The basic ingredients are always more or less the same: ground turkey, black beans, corn, either jalapeño or chopped green chiles (Hatch, from the can, because they're tasty and so easy and I'm lazy), sometimes either chopped tomatillos or tomatoes, spices, and a bit of liquid of some sort. I love them with enchilada sauce, but they're also great with just lime juice and maybe a bit of chicken stock. I always use chili powder, lots of cumin, oregano, maybe a bit of dried coriander, and salt and pepper. Obviously more or less of the spices, depending on whether or not I'm using enchilada sauce as well. But I taste a million times, to make sure I'm satisfied. Isn't that the key anyway, and honestly one of the best parts of being the one cooking? Sometimes I seriously wonder how anything actually makes it to plates, considering how many times I 'check' on it. Trust me, this filling alone is so tasty you won't want to wait for the bell peppers to cook!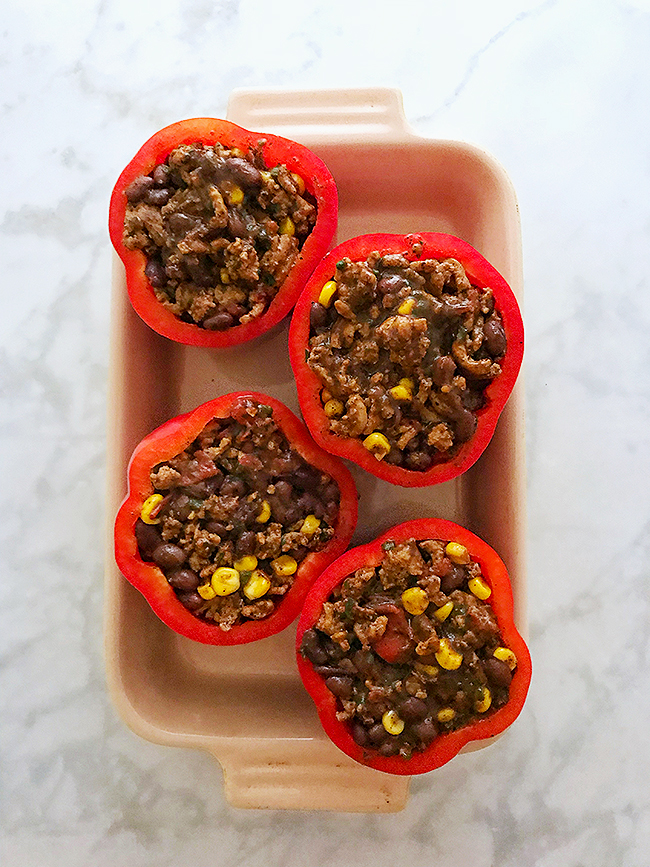 Turkey Enchilada Stuffed Peppers
February 22, 2018
: 4
: 20 min
: 1 hr
: 1 hr 20 min
Flavorful, filling, and endlessly changeable, these stuffed peppers are perfect any night of the week.
Ingredients
4 bell peppers, tops removed whole, seeds and ribs removed
1 jalapeño, seeds and ribs removed, minced
1T oil (olive oil or vegetable)
1lb ground turkey (I prefer at least half dark meat)
1 can black beans, rinsed and drained
1/2C corn
1/2C chopped tomatoes or tomatillos
1-2T cilantro
1C enchilada sauce (see the link above for GImme Some Oven's recipe)
Juice of 1/2 lime
1/4C shredded cheese (Monterey jack, mexican blend, your choice)
Salt and pepper
Sour cream and chopped cilantro for topping
Directions
Step 1

If making your own sauce, do that first! I love the recipe from Gimme Some Oven, and it can be changed to suit your tastes.

Step 2

Heat the oil over medium-high heat in a large skillet. Add the turkey, cook until brown, then season with salt and pepper.

Step 3

Add the jalapeño, and sauté for 2 minutes until soft.

Step 4

Add the corn, tomatoes, and black beans, stir until combined.

Step 5

Pour in the enchilada sauce and mix through, then add the cilantro and lime juice. Taste, and add salt and pepper or other spices if necessary.

Step 6

Place the bell pepper in a baking dish so that they sit upright, and stuff thoroughly with the turkey mixture. Top with the shredded cheese (roughly 1T on each pepper), replace the tops, and place in the oven.

Step 7

Bake at 350 for 35-40 minutes, until the peppers are cooked through and the cheese is melted.

Step 8

Remove from the oven, try to wait until they're cool enough not to burn your mouth when you take a bite, and top with sour cream and more cilantro.

Step 9

Enjoy!