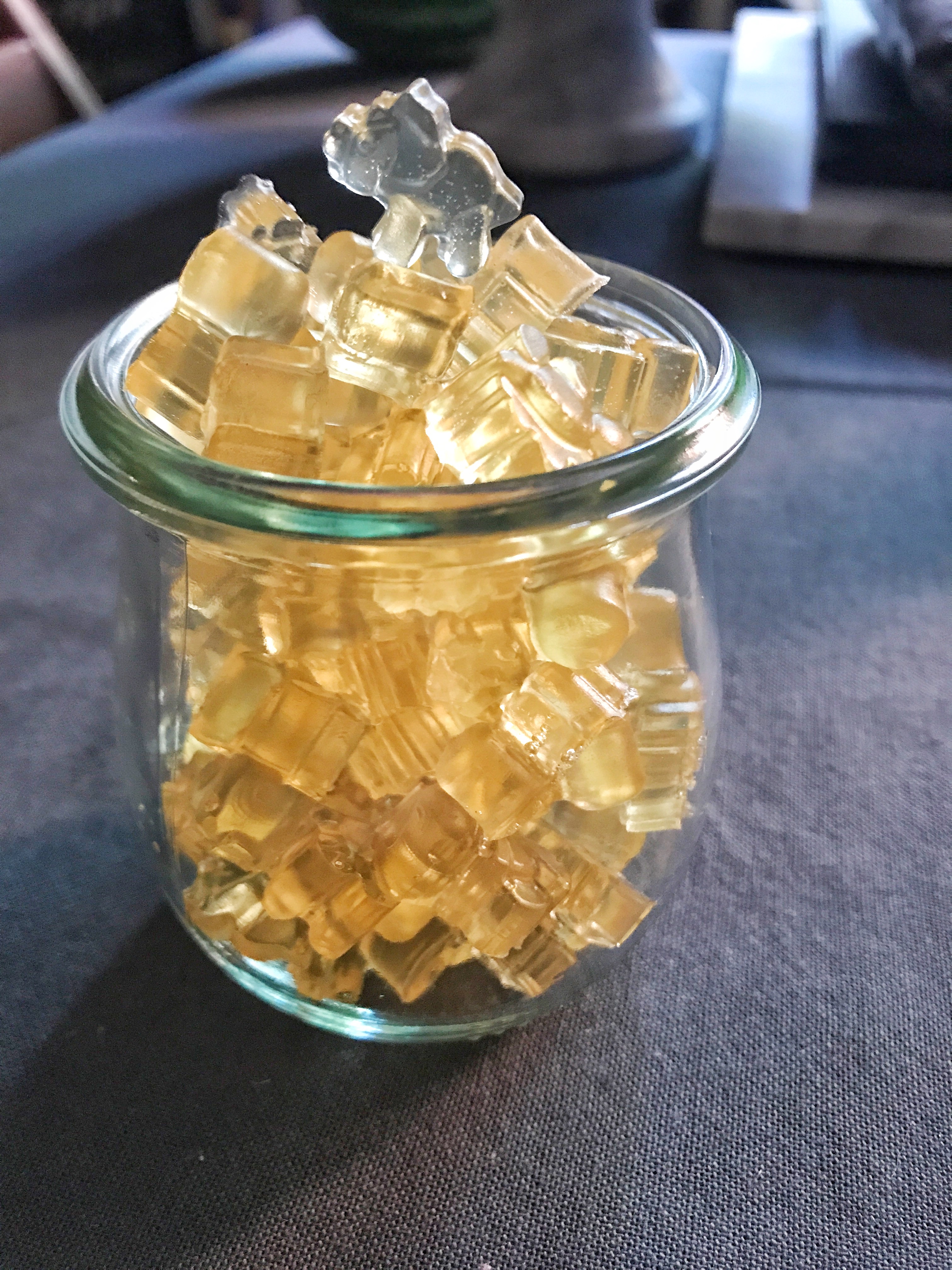 This won't be a long post, I'm just too excited by how adorable these are! I keep coming across homemade gummy bears online, and finally decided to try them myself. When I told the bf I wanted to try them, he said there must be fun alternatives to bears in terms of molds, and I found the cutest dinosaur shaped one on Amazon (you can find it here). And it comes with a dropper to make it easier to fill in all the little dinos.
One recipe I found said to slowly sprinkle the gelatin powder into the heated liquid a bit at a time to ensure it blends in smoothly. Most others said to mix the powder with liquid first, and then add that mixture to the heated part. I did sort of a combination, but honestly I mostly did the latter, because I felt too lazy and excited to take the time to do the former. Of course, considering I didn't initially add enough liquid, I actually made more work for myself because it made this thick mass that was like drying rubber cement, that I could barely get out from inside the whisk. I basically had to cut it out and slowly add more liquid to it until I could smooth out most of the lumps. I would suggest NOT making the same obvious mistake, and next time I won't either! This flavor of these can of course be easily adapted, just change the type of liquid to whatever flavors you might want to try.
I might (just maybe) be making a second batch tonight, this time coffee flavored, with a bit of vanilla. Mmmm mmm!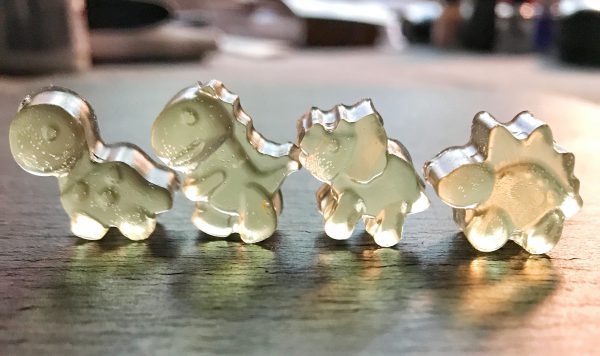 St. Germain Gummy Dinosaurs
August 24, 2017
: 160 dinosaurs
: 5 min
: 45 min
How can you not love something so adorable? These can be adapted to whatever flavor you'd like, and are a quick, tasty treat that looks far more impressive and time-consuming than it really is.
Ingredients
1 1/4C St. Germain
2T water
6 packets gelatin powder
3 strips lemon peel
Directions
Step 1

Heat 1C of the St. Germain with the lemon strips over low heat.

Step 2

In a small bowl, mix the gelatin powder with remaining 1/4C St. Germain and the 2T water, making sure there are no lumps.

Step 3

Slowly add the gelatin mix into the pot of St. Germain, making sure to whisk together completely. It will look cloudy when the gelatin gets added, but keep stirring until it's clear again and any new lumps are gone.

Step 4

Let cool a bit until it's room temperature, then carefully fill the molds. Try not to spill around the molds, just because they're messier when you remove them. Purely aesthetic, they're work just fine either way.

Step 5

Chill in the fridge for about 30 minutes.

Step 6

Store in a closed container so they don't dry out, and enjoy!