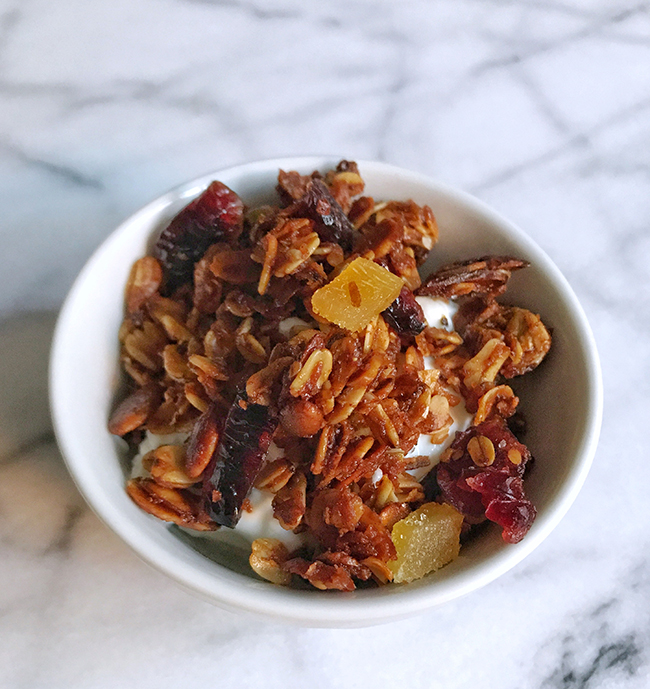 Someone tried to break into our apartment two nights ago. To be honest, I don't know how they'd actually have gotten through the window they were trying to open, considering it was only cracked and there's a stove, island, and tons of stuff on the window sill all in the way, but it's still scary. Thank god the bf is a night owl, and he was still awake. He was watching tv with headphones on, heard a noise, and when he went to check it out there was a guy standing right at our kitchen window trying to open the screen. If he hadn't been awake, or hadn't been home, I would have woken up with a stranger in the apartment. When the bf asked he was doing, the guy told him he was just 'hanging out' and proceeded to get defensive and start swearing at the bf when he told him to go away. I'm sorry, but you don't have any right to get pissed off when you're told NOT TO BREAK IN TO MY HOUSE! So we had the cops come by at 2am, they took a statement because from 2 feet away the bf clearly had a pretty good look at the guy, and now they're going to be doing some extra patrolling behind our building for the next few nights.
I don't think he's going to be back any time soon, but I hate that now I don't feel safe having the windows open even while I'm home. At least not at the moment. I always sleep with them open, but won't be doing that for a while. This is when I really wish we had a pet. I just might ask our friend in the building if I can borrow theirs! This is the first time this has happened in the 8 or so years the bf has lived in this apartment, so in general it's a very safe place, and I'm angry that someone had to go ruin that sense of security for me. According to the cops, there's a rise in this every year around now, because it's when all the students come back and new people move into the area. This guy wasn't a student, but being in a college town with typical leases starting September 1, it's a lot of new people moving in all at roughly the same time. Plus, I wouldn't be surprised if the new people (some of whom may not be used to being in the city or who forget that we're actually still in the city even as far from downtown as we are) combined with it being end of summer/early fall meaning lots of open windows is just too inviting a combination fore some people. Still. Screw you for making me nervous in my own home.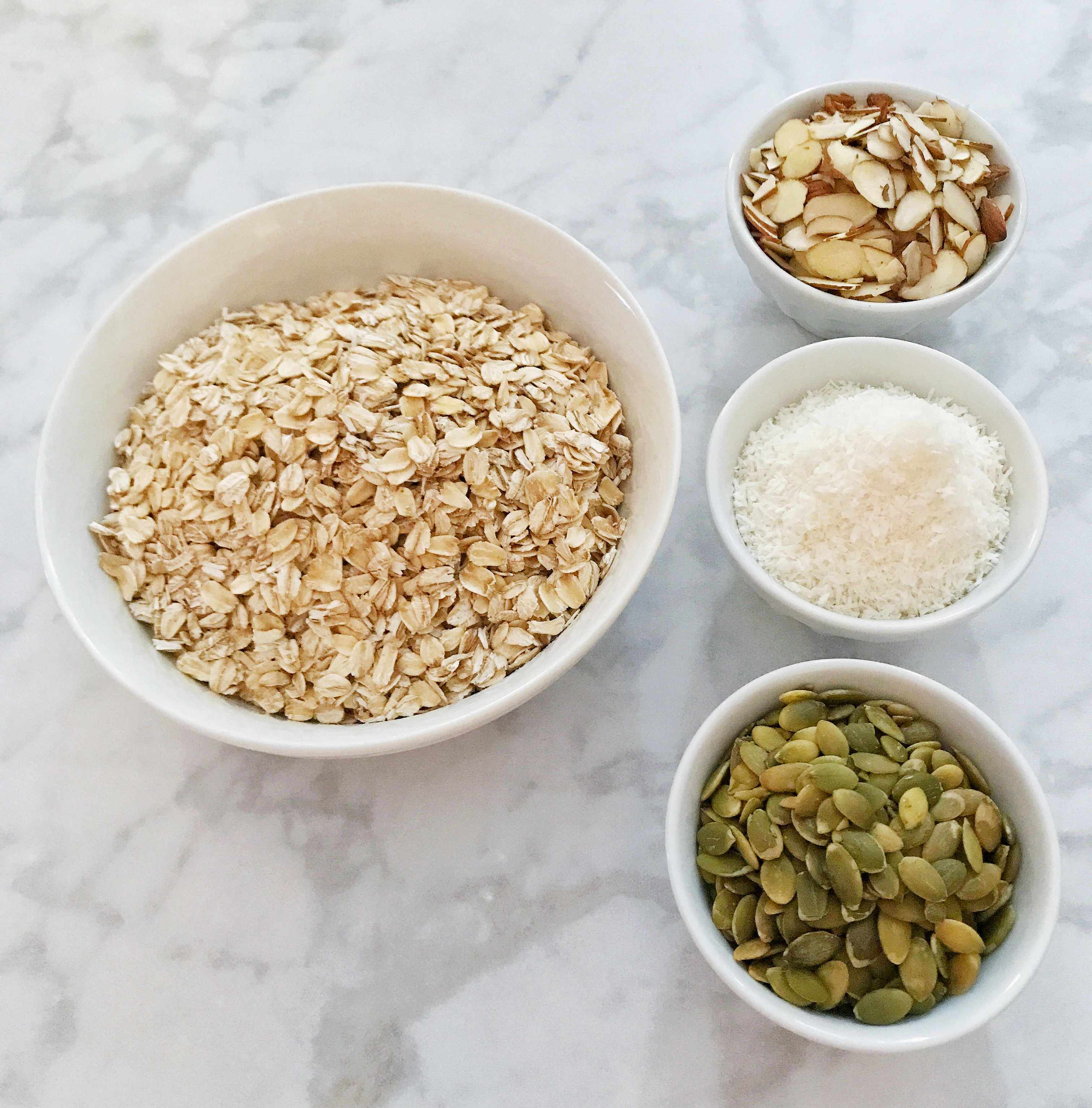 Anyway. Being a bit freaked out led me to be wanting comforting things. Like food. Who doesn't want comfort food? Plus it's fall. Even if it's been sunny and high 80s (or higher) with 95% humidity in New England at the end of September, it's still now fall. I may not be a pumpkin spice girl, but I still crave fall flavors once the seasons change and it (in theory) starts getting cooler. I have yogurt with granola almost every morning, and my go-to is Bola granola. It's delicious, light, and doesn't have much extra stuff to it. It's just straightforward real ingredients, plus it's made in the Berkshires in western Mass, and how can I not love a local, woman run company that makes me yummy things to eat? But that being said, I've been waiting for the cooler weather to make this granola recipe inspired by my aunt. She came for Christmas a few years ago, and being as food oriented as all of us Millers are, she brought us each a fabulous chocolate ganache sauce and homemade granola. It was the best chocolate sauce I've ever had, and I still drool about the granola when I think about it. So, even though it's been so hot and humid recently that our sheets literally feel like they never made it into the dryer before being put on the bed, I made a batch of it yesterday to satisfy all my fall comfort cravings. It may not be magical enough to immediately restore my sense of security, but I will gladly eat through the whole batch to test it's potential power.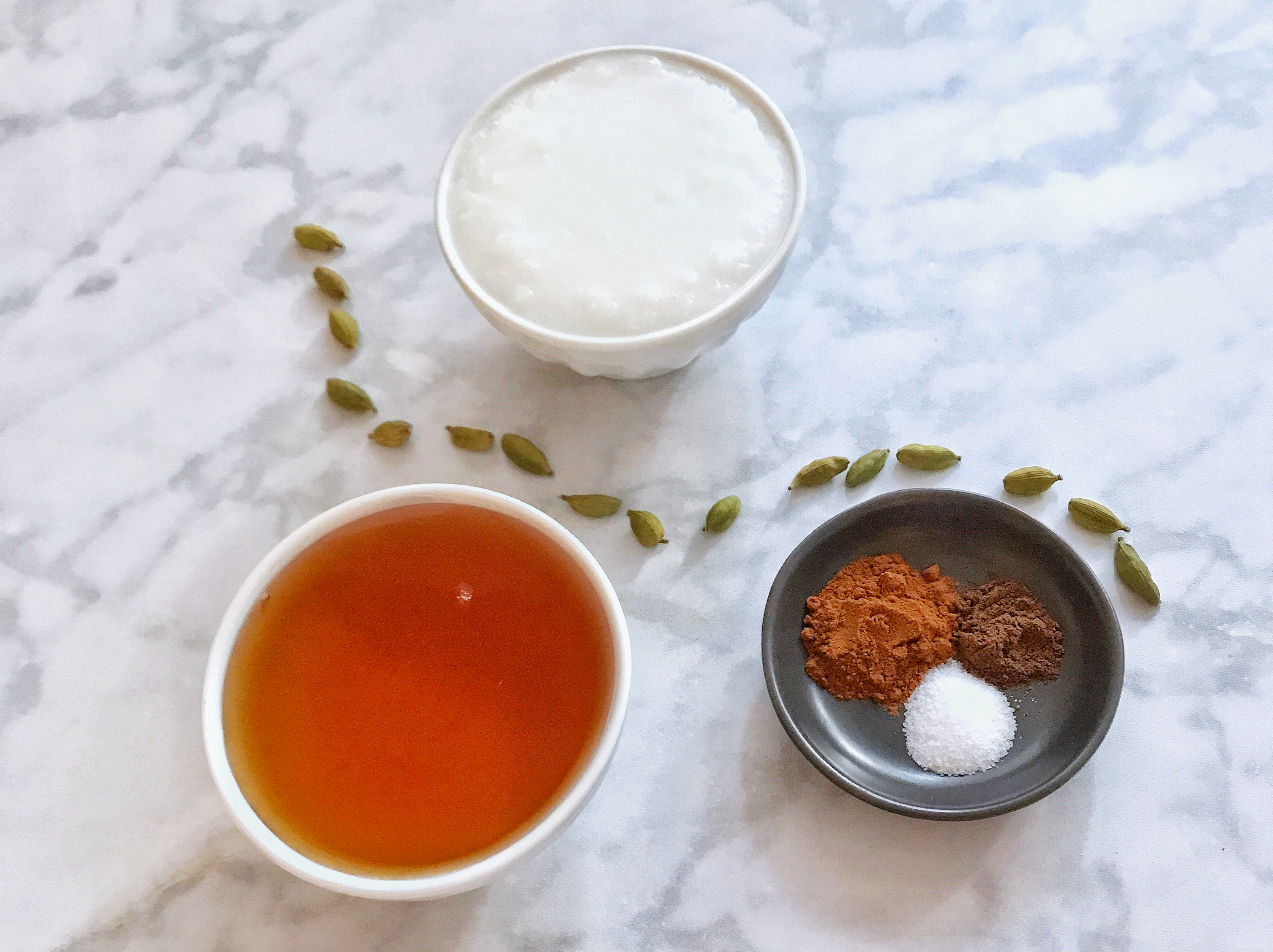 My aunt's recipe is more of an outline, with suggestions of a couple measurements and that's it. She makes it enough that she can eyeball the proportions, so when we coaxed the recipe out of her bit was just a rough idea. It's how I cook too, as taught by my dad. It takes me longer to make any of the recipes I post because I'm actually measuring as I go just to make sure I have numbers to write down! Take that to mean that while I'm going to list measurements, feel free to adjust or change as you want. This is just the way that I like it, and it's pretty damn delicious, but I will admit it's not the only way.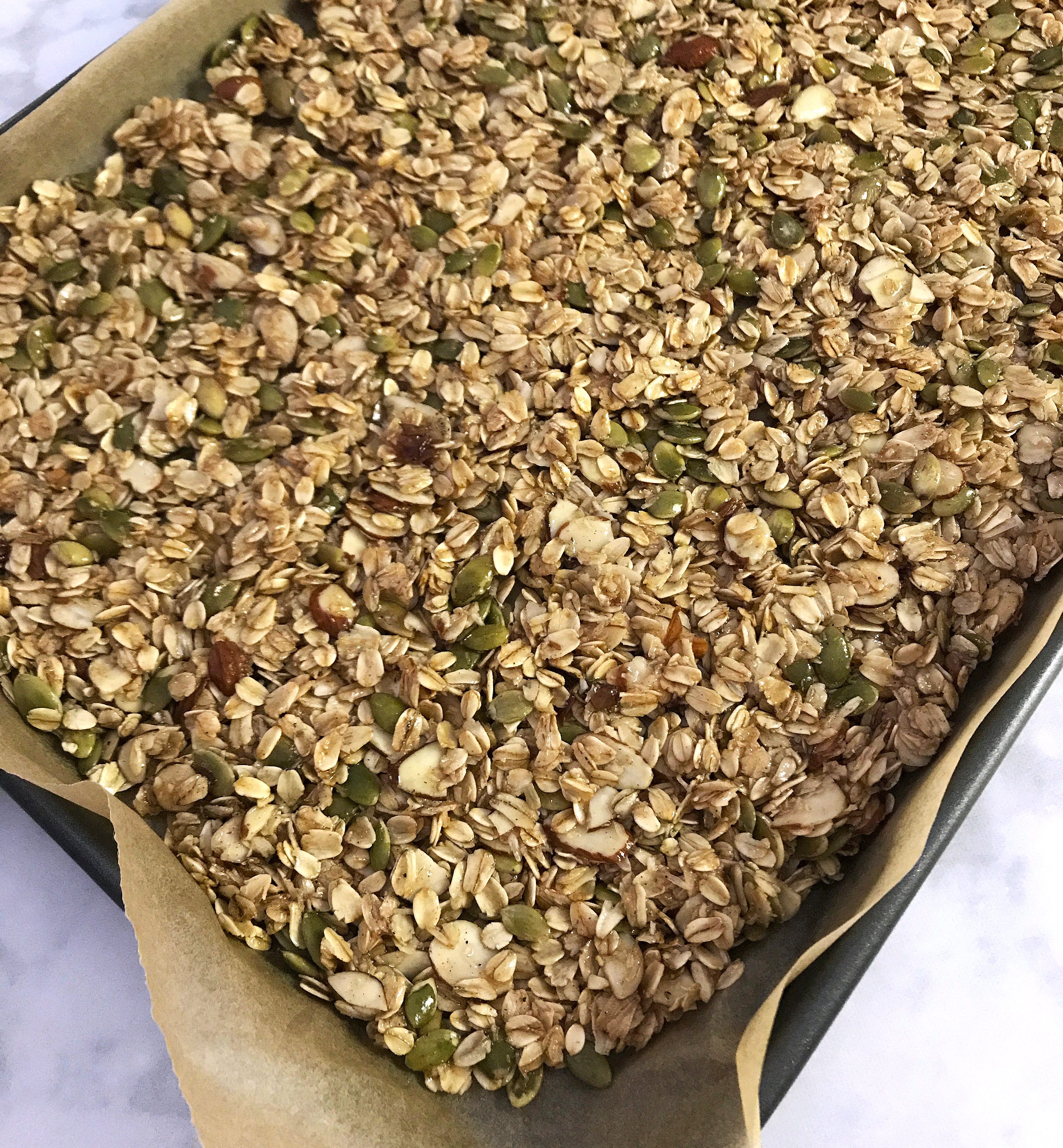 Cranberry Ginger Granola
September 27, 2017
: 10 min
: 1 hr
A delicious fall-flavored granola, perfect on yogurt or even ice cream. It's wonderful as written, but easy to adjust to suit your tastes! Try different oils, nuts, spices, or fruits. There are endless possibilities.
Ingredients
2C old fashioned oats
1/2C unroasted pumpkin seeds
1/2C sliced almonds
1/2C shredded coconut
1/2C dried cranberries
1/2C crystallized ginger, chopped
1/2C coconut oil
1/2C agave syrup
10 cardamom pods (or 1t ground cardamom)
1/2t cinnamon
1/8t allspice
1/8t salt
Directions
Step 1

Warm the oil, syrup, and spices in a small pan. If using cardamom pods, crush them first to open them up.

Step 2

Combine the oats, pumpkin seeds, almonds, and coconut in a large bowl.

Step 3

Stir in the oil/syrup mixture, straining it if you used cardamom pods. Mix together until it's combined. You don't want to soak the oats, so add the wet ingredients in two or three parts to coat well each time.

Step 4

Bake at 300 until golden brown, stirring occasionally. This will take roughly an hour, but remember that it will continue to bake a bit longer once you pull it out of the oven so you don't want to let it get too dark.

Step 5

Let cool, then add in the cranberries and chopped ginger.

Step 6

Store in an airtight container.

Step 7

Enjoy!