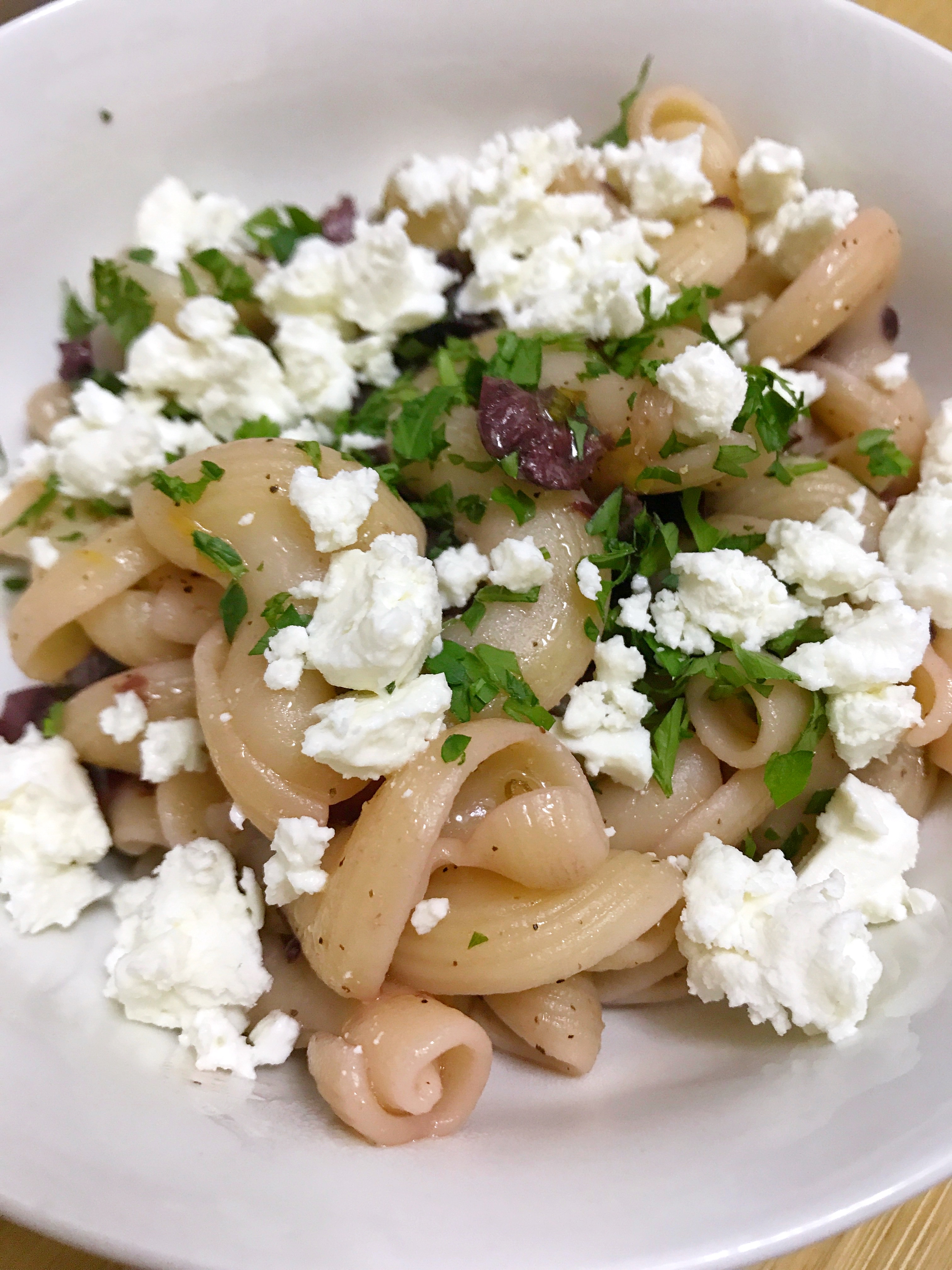 I started this whole thing saying that I was going to share family recipes, and so far the only one I've posted was the very first entry. Time to change that with this lemon olive pasta. This has always been one of my favorite dinners, and it's so good as leftovers too. Of course, that means not overeating and finishing off everything I've made for dinner, and I'm not so good at that when dinner is something this delicious. I'm working on it. I just kind of like food. Just a little bit.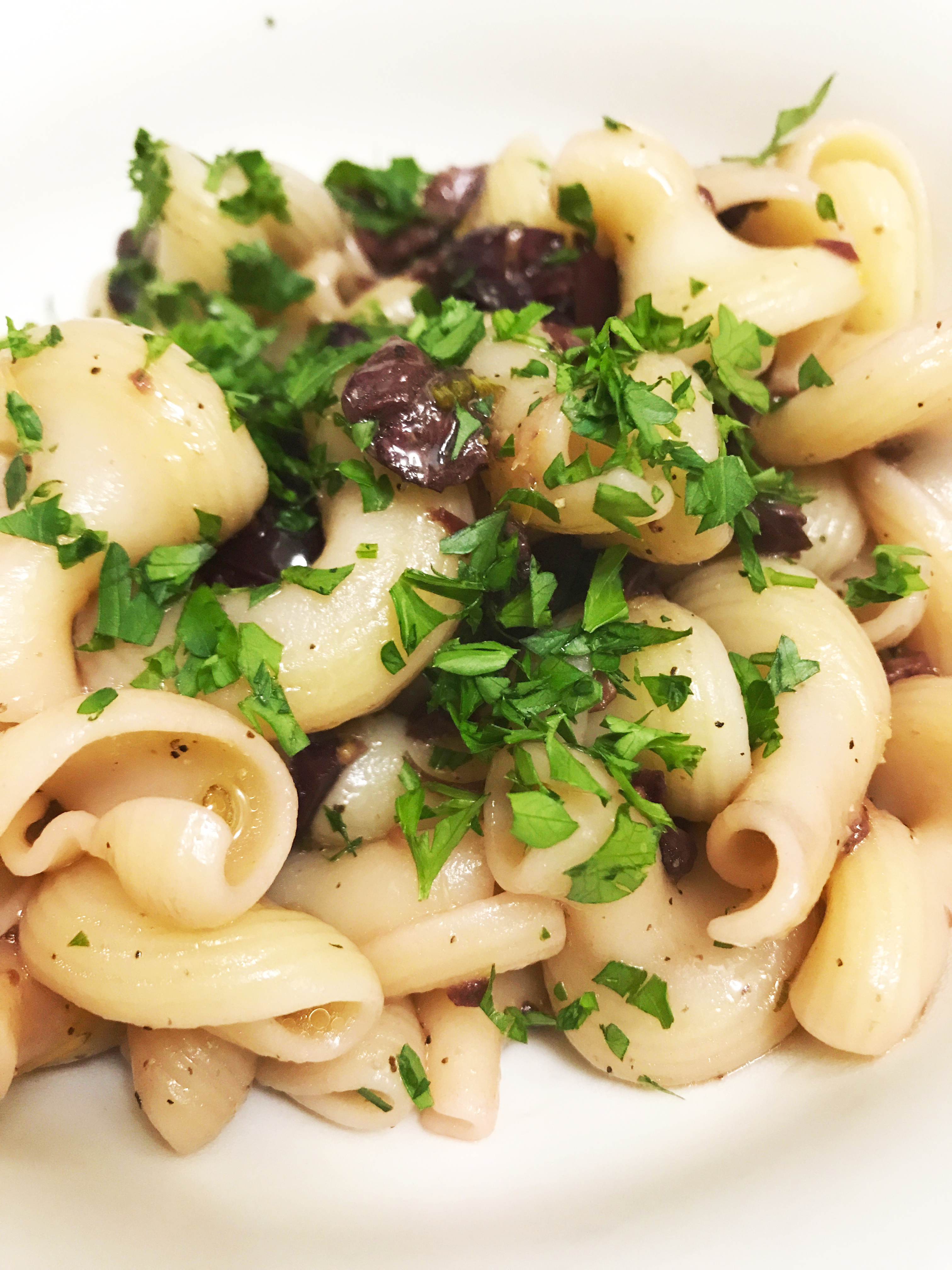 Moving on from my gluttony. I love garlic. Until a couple years ago, almost everything I cooked had at least some garlic and onion to it. Sadly, a few month before I turned 28, my body decided it to say 'haha, you're almost 30!' and won't let me eat (or even drink) lots of the things I always loved. Like asparagus, and eggs, and beer, and most red wine. And especially garlic and onions. My body really doesn't like garlic and onions anymore. At this point it's been a few years, I'm now so used to it that my tongue is starting to revolt against them too, and my poor boyfriend whose body was just starting to think that just maybe garlic and onions were okay has now gone back to not being able to eat them at all either. Basically, eating in our house is a constant struggle to find the line between who can eat what without feeling awful, and how much of those things we are willing to suffer for anyway in the name of deliciousness. I have found, though, that I can handle small amounts of chives and the green parts of scallions, so I can still enjoy some of the flavor without feeling horrible afterwards.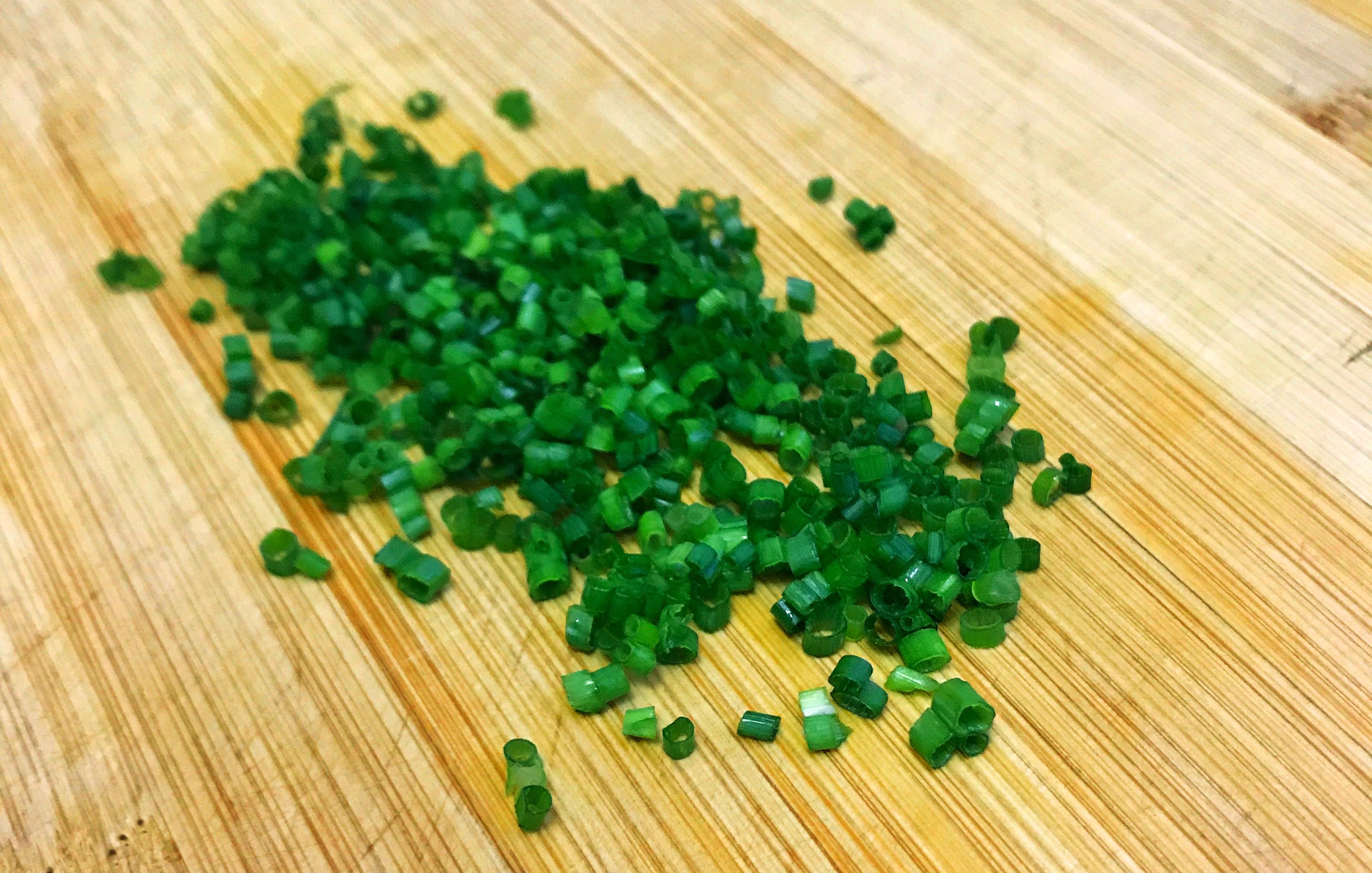 The upside of this is I can eat the chives he really wanted to grow in our garden. Yay! And have I mentioned our garden? Because I'm loving having it! Living in an apartment building in the city, garden space isn't exactly easy to find. Luckily for us, there's a community garden about a 3 minute walk from our building, and we got a space for this year. It's one of my favorite investments, worth every penny we put into it, and we are both loving having something to do that's outside, productive, and doesn't involve us spending our days off spending a ton of money because we can't think of anything better to do than go for long walks around the city and inevitably stop at 1-2 different places for food and a quick drink. Don't get me wrong, I actually love walking around Boston and stopping into whatever restaurant we happen to be near or feel like getting to, but it doesn't really help me save money. Getting to actually eat the things that we're growing, too, makes them just that much better, and it's so satisfying to know that we grew them ourselves, and that there were no harsh chemicals or anything involved (it's an organic only garden).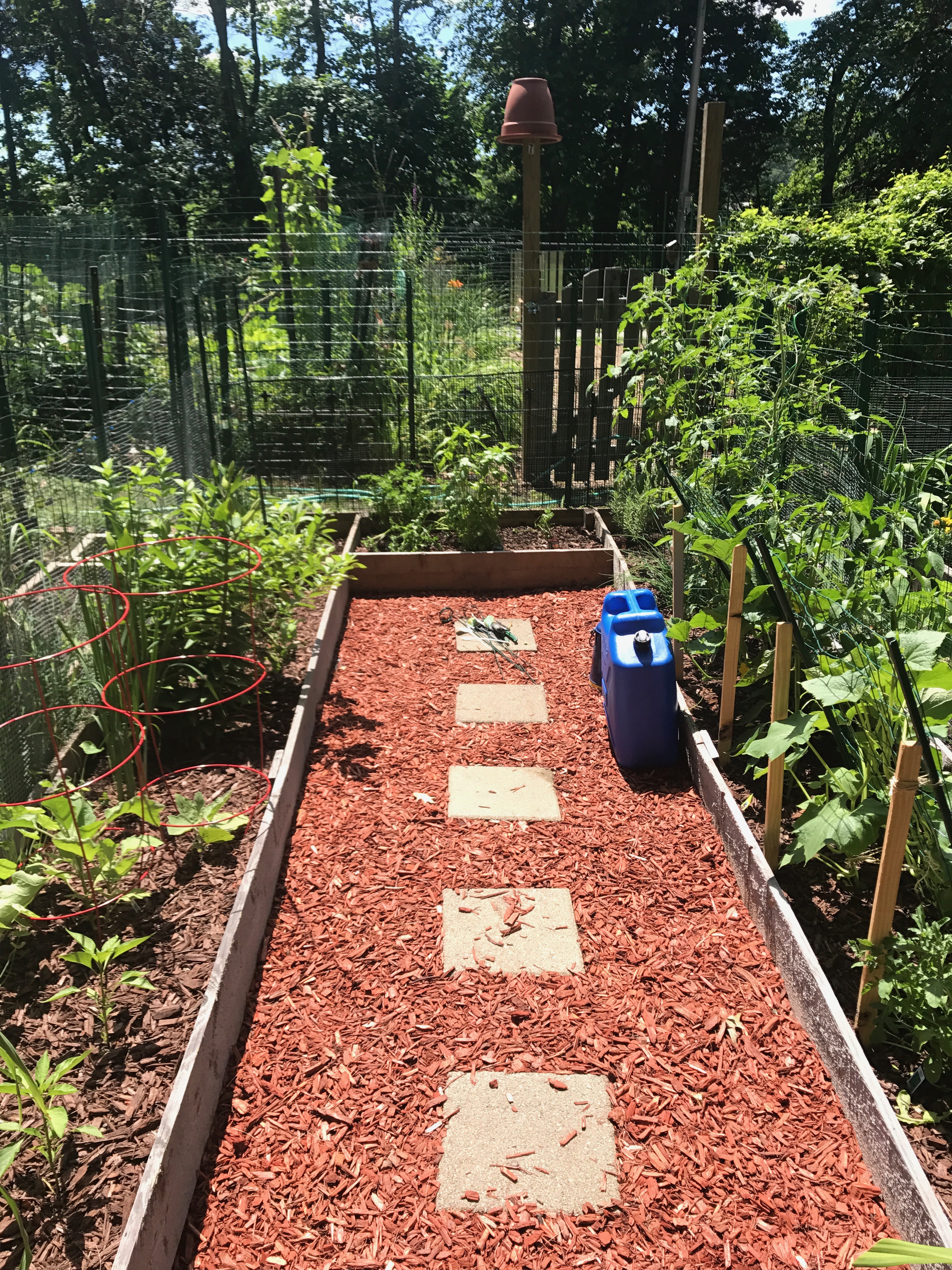 This is the first time either of us has really had a garden before so we're learning as we go, but I have to say I'm pretty impressed with us for being novices. If only we can figure out how to actually stop the squirrels and chipmunks from getting to all our cucumbers and tomatoes! They also seem to love our cilantro. Not the parsley, for some reason, or the basil. Really just the cilantro. Sadly, though, all the cucumbers that were there just a few days ago have now been devoured by the tricky little guys, and without building some sort of net roof I think that's just the way it's going to be. Luckily, they really aren't getting to the parsley, basil, sage, rosemary and chives, so we get to enjoy them ourselves. It makes me so happy 🙂
This pasta, when we made it growing up, always used a clove or two (or three) of garlic, so please please please add it if you like it! It was incredible with the chives instead, but that was initially done because I needed a substitute. Plus, why would I not add fresh herbs that I picked just a few minutes before I made dinner? That would just be silly. I said in my initial post that part of the inspiration for the name 'Lemon & Biscuits' was my lifelong love of everything lemon, and this dish is definitely case and point. You can always adjust the lemon to suit your preferences, adding more or less juice and zest, tasting a bit as you go. I could have easily added even more lemon and still been super happy, but this had such a good balance of flavors that I didn't want to push it. I also could have cooked more pasta and had just a bit less of the lemon and olive sauce coating everything, but that 's another thing that can be trial and error when you make it yourself. For me, this was the perfect amount of sauce for about 4 servings.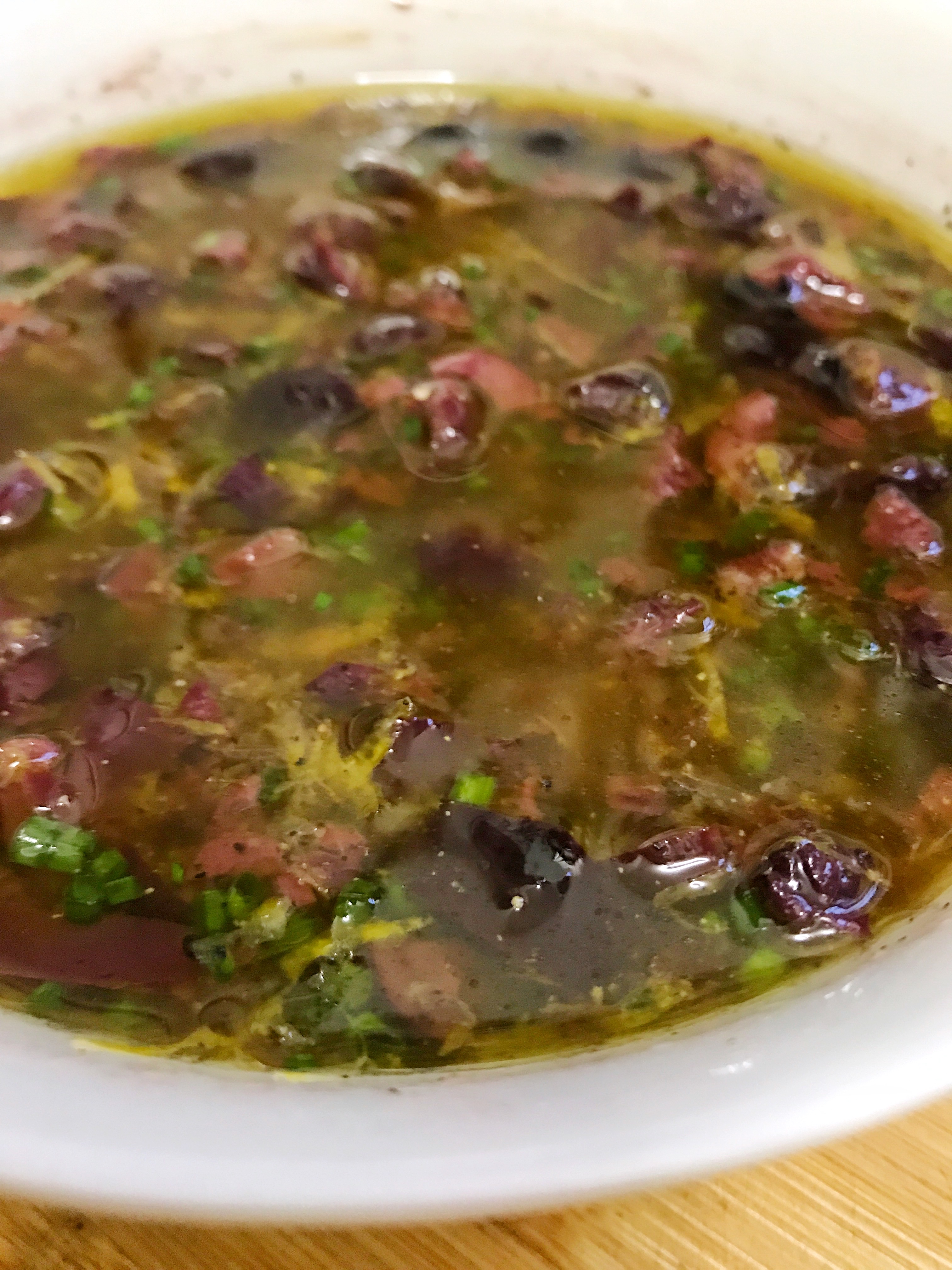 You can make the lemon and olive sauce a bit before you're actually ready to make dinner. Honestly it's better if you do, the flavors meld together if you give them an hour or two to soak each other up. If you don't have time for that, though, it will still be super tasty. A bit of fresh parsley and cheese on top makes it perfect. The boyfriend went with parmesan, but I had picked up a sheep's milk feta at Whole Foods and oh my god. It was nutty, buttery, creamy, soft but still firm enough, and just amazing. Not as salty as I tend to think of when I think of feta. Pretty sure I won't be buying any other kind for quite a while, unless I'm adding it to watermelon or something where the saltiness of a classic cow's milk feta would be a better contrast. In this case, the sheep's milk version was the perfect pairing with the lemon and olives.
Lemon Olive Pasta
July 14, 2017
: 2-4
: 5 min
: 15 min
: 20 min
Ingredients
1C chopped kalamata olives (pitted, obviously)
1/2C lemon juice
1/3C olive oil
zest from 1 lemon
4-5 chives, chopped
1/2t salt
1/2t black pepper
1-2T chopped parsley
8oz pasta of choice (roughly 1/2 a package, usually). Fusilli is a great choice, something with ridges and dips to catch the sauce.
Crumbled feta or grated/shaved parmesan (optional)
Directions
Step 1

Mix all the ingredients except the pasta and parsley together, and let sit. If you have time, leave it for an hour or two.

Step 2

Boil a pot of heavily salted water and cook your pasta according to the directions on the package. In my case, the pasta needed about 6-7 minutes to be al dente.

Step 3

Drain, return the pot, and pour in the lemon olive sauce, mixing together well.

Step 4

Plate, and top with the fresh parsley and cheese of choice (if you want cheese).

Step 5

Enjoy the deliciousness!